Managing waste: Sundaram-Clayton shows the way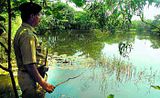 A serene forest surrounded by a tranquil lake, birds to nest and plenty of bamboos — all in a corner of polluted and dusty Padi in the suburbs of Chennai. Well, the Die Casting unit of Sundaram-Clayton of the TVS group has made the unthinkable a reality — creating wealth out of waste.
Egrets, woodpeckers, barbets and many other varieties of birds gather for nesting in the islands that have 120 varieties of cacti, several species of grass and fruit bushes including Singapore cherries for the birds to feed.
Read report