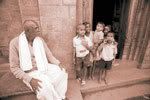 At a time when the joint family tradition has become a thing of past and where nuclear families thrive, the 180 member Narasinganavar clan is an exception.
As one of the largest joint families in Asia, with its origins dating back to the 16th century, the dynasty has defied all odds to live a contended lot under one roof at Lokur, a non-descript hamlet, about 20 km from Dharwad in North Karnataka.
The undivided family has about 270 acres of land, of which eight acres is meant for paddy cultivation. The family owns seven houses in the village, but they have a single kitchen for their culinary needs.
The Narasinganavar family does not buy foodgrains and vegetables as everything required for the kitchen is cultivated by them.
Besides cultivating cotton, sugarcane and oilseeds, the men are involved in growing a variety of vegetables, including potatoes and onions on their farmlands.
Read report