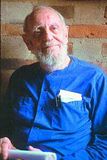 Laurie Baker passed away on April 1, 2007
It was during a chance encounter with Mahatma Gandhi later that Baker decided to get back to India. He did so in 1945 and for three years travelled all over the country helping the leprosy mission repair its leprosy homes and build new ones.
He got exposed to indigenous architecture and was amazed at the way in which simple materials could be exploited to produce buildings with refined aesthetics and lasting qualities. These formative years laid the foundation of Baker's approach to architecture.
Having lived for a few years at Pithoragarh (now in Uttaranchal) and then at Vagamon, a hill area of Kerala, Baker finally moved to Trivandrum (now called Thiruvananthapuram) in 1970. Over the years, as needs increased and the required finances became available, his present home - The Hamlet - evolved.
When Laurie Baker talks, he does not theorise. His way of talking is simple and straight. He does not use complicated words or technical lingo while describing his architecture. But the observer is able to witness the unconventional nature of his architecture.
Read report