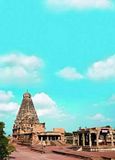 IN a remarkable feat performed in the face of overwhelming odds, two officers of the Archaeological Survey of India (ASI) and a young photographer have photographed in minute detail four huge frescoes found in the Brihadisvara temple in Thanjavur, Tamil Nadu.
What makes their work all the more creditable is the difficult location of the murals, their enormous size and their reflecting surface, all of which posed big challenges.
The murals, each 15 feet tall and 10 feet wide (4.5 metres x 3 metres), are about 1,000 years old. They are located in the narrow and dark passage around the temple's sanctum sanctorum. The great Chola king Raja Raja I built the Brihadisvara temple
between AD 1000 and AD 1008 and the paintings were done between AD 1008 and AD 1012.
If most visitors had hitherto no access to these paintings because of their location, they can now relish the paintings' exact photographic reproductions, which are on display at the newly opened Interpretation Centre on the temple premises.
Read report