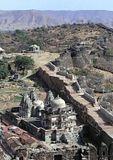 Kumbhalgarh fort:
With a total length of 36 km, the 7-metre wide Kumbalgarh walls snake up and down the Aravalli hill range in southern Rajasthan. The Kumbalgarh fort has the world's second longest wall.
Kumbalgarh fort has a fascinating history. The structure is said to have been built by Rana Kumbha between 1443 and 1458 A.D., but some believe that it may have been built upon a more ancient structure commissioned by the Jain prince Samprati way back in the 2nd century B.C.
Situated approximately 64 km north of Udaipur, it is the second most important fort in the Mewar region after Chittorgarh. Kumbhalgarh fort is one that has remained unconquered till date. This was so because of its inaccessibility and hostile topography. The Kumbhalgarh fort also is the birthplace of Mewar's legendary King Maharana Partap.
The most amazing and interesting fact about the fort is that it houses another fort in its complex. This fort is called Kartargarh fort and comprises of a palace built by Maharana Fateh Singh. The palace was constructed after destroying the palace built by Rana Kumbha. There are 365 temples and shrines in the Kartargarh fort.
Kumbhalgarh: History
In Rana Kumbha's time the Mewar kingdom spread from Ranthambore to Gwalior, including vast areas of present-day Rajasthan and Madhya Pradesh. The rulers of Mewar became patrons of Indian martial and fine arts, architecture, and learning. There are 84 fortresses defending Mewar and 32 were designed and built by Rana Kumbha.
Its steel gray ramparts encircle the fertile Shero Mallah Valley, with ancient monuments cenotaphs, ponds and flourishing farms. Kumbhalgarh fell only once in its history, to the combined forces of Emperor Akbar, Raja Man Singh of Amber, and Raja Udai Singh of Amber, and Raja Udai Singh of Marwar.
Kumbhalgarh:
Other attractions
Horse lovers and adventure seekers can enjoy the thrill of riding and camping in the Reserve Forest around Kumbhalgarh. Horses, tents, food and fodder are provided on prior notice at a very reasonable cost.
A hazardous, barely jeepable track takes you to the 586 square kilometer Kumbhalgarh Wildlife Sanctuary. The main attraction here would be panther, sloth bear, wild boar, four-horned antelope or crocodiles.
Read report