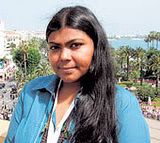 It was a dream come true for the 27-year-old post grad from the Satyajit Ray Film and Television Institute (SRFTI), whose 28-minute feature "without any dialogue", Chinese Whispers, is one of 16 entries in competition in a category called La Selection Cinefondation at the Cannes film festival.
Chinese Whispers is her graduating film. "It's about urban life. It's fictional. It's 28 minutes on 35mm. And there are no dialogues in the film — though the sounds are ambient"
Raka Dutta's grand father is Tarit Ghosh, a well known lyricist — he did music also for 42 and Bhuli Nai, very famous Bengali films on Indian Independence.
Read report