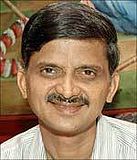 Suresh Kamath, the managing director of Chennai based Laser Soft Infosystems Ltd is an unusual man. Unlike most other entrepreneurs, he does not aspire to create a business empire; his sole ambition is to provide employment to 10,000 people. He also plans to reserve 40 per cent of the jobs for the disabled.
In recognition of his commitment to the disabled, President of India A P J Abdul Kalam felicitated Suresh with the Best Employer award in December 2005.
"Even at IIT, I was the only student in our batch of 20 who did not go abroad after studies. On hearing of my ambition, many of my friends ridiculed me and even called me a 'fool'! I took their scorn in my stride. However, my parents were very supportive. They encouraged me not to pay heed to what others were saying and encouraged me to strive to give shape to my ambition." says Kamath.
Read report