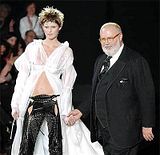 Gianfranco's three years were spent working with India's bright colours and textures which inspired him to turn his focus from designing buildings to clothes.
When he returned to Italy he started his label, Baila, and subsequently went on to devote a lifetime to designing the most stylish of garments for the world's elegant women and men.
Indeed, Italian designer Gianfranco Ferre, 62, who died on Sunday in Milan after a brain haemorrhage, started his career in India. Ferre, who after the success of his first line Baila, launched signature label Gianfranco Ferre, quickly became one of Italy's most talented designers and was admired for his attractive ready-to-wear lines for men and women.
Read report