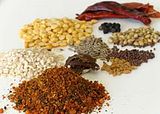 Andhra Podi
: Andhra recipe
Time: 15-30 mins
What you need:
1 cup phutana (toasted split gram)
4 large flakes garlic with skin
1/4 tsp. asafoetida powder
2 stalks curry leaves
1/2 tsp. cumin seeds
1 tsp. salt (or to taste)
1 tsp. red chilli powder
5 red chillies dry
1/2 tsp. oil
1/2 tsp. sugar
How to prepare Andhra Podi:
Heat oil in a heavy pan. Add chillies, cumin, asafoetida, curry leaves and garlic.
Stir slowly. Add phutana, take off fire, stir to mix well.
Leave in pan till cooled completely. Add chilli powder,sugar, salt.
Grind to a fine powder. either in a small electric mixie or hand pounder. ,
Store in airtight jar, at room temperature, in dry airy cupboard.
Now your
Andhra Podi
is ready for a long use.