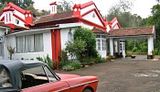 At every turn one expects a Manderley or a Wuthering Heights. We do see a Kings Cliff and a Blackwood Cottage. Driving through the Nilgiris reveals that despite a lot of them having fallen prey to time and weather, there are remnants of the Raj
that cling stubbornly to the landscape. Gabled roofs, casement windows, chimneys, winding driveways and frustratingly tall gates deny you a glimpse of what lies yonder.
Some of these houses date back to the 1800s. And, if walls could talk, what wonderful tales there would be. Havelock House is one of the first 10 European houses built in Ooty.
The owners of most of these homes have tried to retain their original character and have often sacrificed comfort to retain the authenticity.
Read report