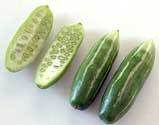 Dondakaya Pulusu Recipe
Cooking Time: 30 mts
What you need:
Dondakaya - 1/2 kg(nicely sliced)
Onions - 2 (nicely chopped)
Red chillis(dry) - 2 (remove seeds)
Garlic - 2 cloves(crushed)
Ginger paste - 1/4 tsp
Daniya powder - 1tsp
Chilli powder - 1 tsp
Mustard seeds - 1/2 tsp
Cumin seeds - 1/2 tsp
Fenugreed seeds - 1/2 tsp
Turmeric powder - 1/4 tsp
Tamarind - small lemon size(extract juice)
Curry leaves - 10
Oil - 1 tbsp
Jaggery(grated) - 1 tbsp
Salt to tast
How to prepare:
Soak the tamarind in 2 cups of warm water for 15 minutes. Extract juice and keep aside.
Heat oil in a thick fry pan and add the mustard seeds and let them pop, add curry leaves, cumin seeds,
fenugreek seeds, ginger, garlic and red chillis.
Toss them for a few seconds and don't allow the fenugreek seeds to burn, they should turn slightly red.
Add the onions and let them become brown in colour and add turmeric powder. After that add the Dondakaya (Ivy Gourd) pieces and fry for 3 minutes. Cover the frying pan with lid and cook in low heat.
Add chilli powder, dhaniya powder, salt and mix well.
Add the tamarind juice and grated jaggery and cover it with a lid and cook in medium heat. Cook till it turns soft and the sauce thickens.
Now your
Dondakaya Pulusu
is ready.