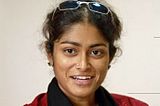 Anuradha Vaidyanathan's passion for a little-known sport called Ironman, which tests the limits of human endurance, is commendable. But she is not content with passion. She wants to excel.
She is perhaps the lone Indian, a woman at that, who is an Ironman athlete. She nurses big hopes of international success in the gruelling sport. Ironman is a long distance triathlon involving 3.8 kms of swim, 180 km of bike racing and 42.2 kms of
running all without taking a break.
Read report