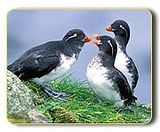 Sashi Bhushan Roy of Saptabari Village in West Bengal's Jalpaiguri District has raised a huge garden that provides a shelter to over 15,000 birds on a piece of land.
On watching a number of birds arriving almost everyday at his land, he quit the idea of using the land for any other purpose than a home for his winged friends.
Today, over 15,000 birds bear testimony to 65-year-old Sashi Bhushan's immeasurable love for the feathered friends in Jalpaguri. He claims to have developed a special relation with these friends.
Read report