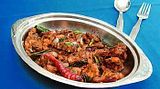 Andhra Chicken Fry
Time: 45-60 mins
What you need:
Chicken 1kg
Cloves 2 nos.
Cinnamon 3 pieces
Onions, chopped 2 nos.
Garlic 3 flakes.
Ginger 1" piece
Garam masala powder 2tsp
Turmeric powder 1/2 tsp
Red chilli powder
cumin seeds 1/2 tsp
Coconut, grated 2 tbsps.
Bay leaves, Coriander leaves
Onions, cut finely 2 nos.
Oil 3 tbsp,
Salt as desired.
How to prepare
Andhra Chicken Fry
:
Boil the chicken with 1/2 tsp of salt and turmeric powder(do not add water to the chicken)
Grind together garlic,cumin seeds,coconut, ginger, and to a fine paste.
In a pan heat oil add cloves,cinnamon, and bay leaves. After that add chopped onions and fry till brown.
Then add the ground paste and till brown. Add red chilli powder, boiled chicken and little water.
Fry the chicken until the gravy becomes thick. Then add garam masala and coriander leaves.
Now your
Andhra chicken fry
is ready.