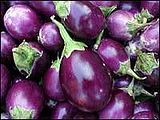 Andhra Stuffed Brinjal
Time: 30-45 mins |
What you need:
Small round violet Brinjals - 10
Mustard seeds - 1/2 tsp
Cumin seeds - 1/2 tsp
Fenugreek seeds - 1/2 tsp
Coconut grated - 1/2 cup
Bengal gram daal - 4 tbsp
Urad daal splitted - 2 tbsp
Turmeric powder - 1 tsp
Dry Red Chillies - 8
Jaggery or Sugar - 1 tsp grated
Tamrind(cherry size ball)
Curry leaves hand full
Oil - 3-4 tbsps
Salt to taste
How to prepare
Andhra stuffed brinjal
:
Wash and slit brinjals in + shape. Cut the crown of the Brinjals. Put Brinjals in salted water.
Fry mustard seeds, cumin seeds, fenugreek seeds, coconut grated, bengal gram dall, urad dal in little oil.
Grind all these fried things and add tamarind, jaggery and salt to a fine paste.
Add little water at the time of grinding. Stuff this masala in Brinjals.
Heat oil in a thick pan. Put Mustard seeds in oil, when they splutter add curry leaves and turmeric powder.
Place all the stuffed Brinjals one by one in the pan. Cover and cook for 10 minutes.
Now turn the brinjals. Add water to the remaining masala and mix well. Add the masala on the Brinjals and mix well. Do not cover. Cook for another 7 minutes. Finally add some chopped coriander leaves.
Now your
Andhra Stuffed Brinjal
is ready.