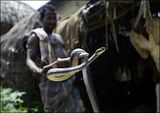 The village of Choto Pashla in West Bengal state has one snake for every two residents, mainly the poisonous monocled cobra, a black reptile with a yellow ring around its neck that can grow to seven feet (two metres) in length.
A recent count by the villagers found there are more than 3,000 snakes in this village of 6,000 people.
The Geological Survey of India is studying the village to figure out why the cobras are flourishing there, an official said.
Local lore has it that the reptiles first came to the little rice-farming village 130 kilometres (80 miles) northwest of the state capital Kolkata en masse six centuries ago during a flood.
Read report