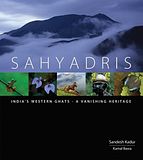 Gangadhar Kallur is on his mission to save the Sahyadri for the last two decades. He taught English for 10 years in various degree colleges.
A heroic son of a police officer, he has the distinction of having gone on 700 treks in the Western Ghats and 43 in the Himalayan region.
Impressed by the writings of Jim Corbett and Henri Cherrarrie's Papillion, he took upon himself the task of saving the Western Ghats. He often stays with the villagers in forests to know their opinion on wildlife conservation.
In fact, many villagers regard him as a hero.