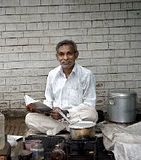 Over 30 years ago when Laxman Rao ran away from his home in Talegaon Dashashar, western Maharashtra, with just Rs. 40 in his pocket, he had little idea of what life had in store for him. In Bhopal where he chose to get off the train, Laxman worked as a labourer for three months before he boarded the train once again and came to Delhi.
`I felt, as I had done only class X, I needed to study further so at day time I worked and by night I would sit and read my books. I passed XI, XII and even did my graduation from Delhi University. Then in 1997, opposite the Suchita Bhawan on Vihsnu Digambar Road, I built a mud platform and started selling paan beedi. I did that for 14 years before I started selling tea."
He finished writing his first book, Nai duniya ki nai kahaniya in 1979. Armed with his manuscript, he enthusiastically made the rounds of publishers. Everyday, armed with a bag full of his novels, Laxman made the rounds of schools and colleges on his bicycle.
He is now onto his sixth book, Renu.
Read report