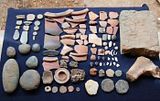 Studies have brought to light the existence of prehistoric civilisation at Hartikote village in Hiriyur taluk of Karnataka.
S.H. Ramdas Reddy, a history lecturer at Government First Grade College, Challakere has spent over 10 years exploring new sites of ancient civilisation on the banks of the Vedavati, which passes through Hiriyur taluk. He has found evidence of Neolithic and Megalithic civilisations.
Several materials found in the area indicate the existence of Shatavahanas in the region.
Read report