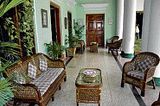 No generators, no air conditioning and no television sets in rooms. Thats the Green Hotel in Mysore, which is just different!
Built on the model of sustainable and eco-friendly tourism, the hotel was set up by Mrs Hilary Blume of Charities Advisory Trust. Stan and Mari Marcel Thekaekkera, board members of the hotel, run their own social service organisation in the neighbouring Tamil Nadu.
The hotel has won first prizes time and again in the Mysore Horticultural Society's best garden competition. It has also received an award from the British Guild of Travel Writers' Tourism Project. The hotel has also been selected as one of the 'World's Best Ideas' by the Institute of Social Inventions, London. All profits from the hotel are donated to charitable and environmental projects in India.
Read report