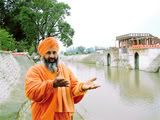 Time magazine named Sant Seechewal as one of the activist "Heroes of the Environment – 2008". This has again brought into focus the work done under the leadership of the 46-year-old sant, who marries spirituality with eco-friendliness and activism.
In the mid-1990s, Sant Seechewal started by cleaning up his own village that had a population of 1,500. Before 2000, they had installed sewerage, waste was being recycled in the village and the recycled water was being used for agriculture.
The villagers also built a road from Lohian to Jalandhar and it is 20 km shorter than the official route.
Kali Bein has historical significance as Guru Nanak Dev had attained enlightenment there. The 160-km-long rivulet which originates from Wadhya village had been reduced to a dirty drain because of neglect, misuse of water and pollution. The untreated effluents of six towns and around 40 villages were poured into it, along with industrial waste and pollutants from factories upstream.
Sant Seechewal took up the task of cleaning up the rivulet, and now it is pure.
Read report