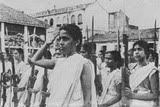 Women against the Raj: The Rani of Jhansi Regiment
by American historian Joyce Chapman Lebra highlights the contribution made by hundreds of women of Indian descent, the daughters of poor rubber plantation workers in Malaya, who responded to Netaji Subhas Chandra Bose's call and volunteered to form the women's wing of the Indian National Army (INA).
Over the last few years, Lebra painstakingly located and interviewed some of the few remaining survivors of the women's regiment creating an eminently readable account of a remarkable band of women who "wanted to die for India".
Netaji's 1943 appeal for volunteers to join the Rani of Jhansi Regiment, named after the heroine who died in battle against the British in 1858, was mesmerising.
Hundreds of young women and teenagers came forward to take up arms. Most of the women were poorly educated, belonging to South Indian Tamil families who worked as rubber tappers in Malaya.
The vivid recollections of four of these fighters — Meenachi Perumal, Ammaloo, Muniammah and Anjalai Ponnuswamy — brings to life their tumultuous war-torn travails in the jungles of Malaya and Burma.