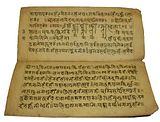 Nearly three decades ago, when the militant struggle in Kashmir made fleeing an honourable option, Dr B N Kalla came to live in Delhi with his family and many prized manuscripts that had been passed down by his father, a Sanskrit scholar.
Manuscripts from Kashmir were written in the Sharda script, seen as a predecessor to Gurmukhi, the script of Punjab. It is older than Devnagari and is the predominant source of the region's history for researchers. Some in Kalla's collection - among the biggest in the city - are from the 12th Century which talk about religious pilgrimages of those days.
There are many more, who might not have a substantial collection like Kalla and Kole, but the few threads they cherish bind them strongly to their roots.
Read report