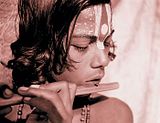 Way back in 1932, Frenchman Alain Danielou and his Swiss partner Raymond Burnier drove through Afghanistan to India on a discovery trail. Later, India was to become their home as both immersed themselves in the culture and literature of the land.
Danielou and Burnier lived in Varanasi, the town that Twain described as being "older than history, older than tradition, older even than legend." There they rented an old palace, Rewa Kothi, on the Assi Ghat. With the help of Indian pundits, Danielou began studying Sanskrit, Hindi, religious text and philosophy.
Danielou's and Burnier's photographs capture the old-world charm of Varanasi — the temples, the masseurs, the street scenes on the bank of the Ganga. These are remarkable for their artistic quality and the black & white tone stand out to define the culture and aestheticism that mark this ancient town.
Burnier passed away in 1968, and Danielou in 1994. Nevertheless, their legacy lives on, in the form of these photographs, and in the form of various books and records.