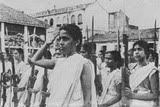 Eighty two-year-old Bharati Choudhry, who was part of Netaji Subhash Chandra Bose's Indian National Army, played a key role in inspiring women to participate in the freedom struggle. Choudhry, a former Lieutenant of Rani Jhansi Regiment, is an inspiration to many.
At 82, her fragile body hardly allows her to move but the moment one talks about the Indian freedom struggle, she stands gripped with emotions and recites an old song composed by her father that inspired thousands of Indians to lay their lives for the freedom of their motherland: Hind sipahi, be brave cease your mistakes and
fight for your land.
Daughter of Anand Mohan Sahay, the closest associate and chief advisor to Netaji during that period, has just published the memoirs of her daring father, Stirring Times.
Bharati was part of the INA when it waged war against the British. She marched along with the Army to Imphal.
Read report