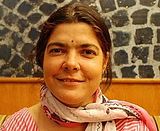 Reena Kaushal Dharmashakthu of Delhi will be the first Indian woman to travel to the South Pole along with an all women team, representing five continents.
Dharmashakthu (38) is the only South Asian in the team comprising of eight women who planning to reach the South Pole in time to mark the 60th anniversary of the Commonwealth.
The group plans to travel 800km over six weeks, braving sub -30C (-22F) temperatures to reach the heart of Antarctica, in an attempt to raise global awareness on global warming.
Read report