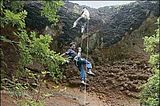 (From the archives: This article appeared in India Today in 2004)
Girimitra Pratisthan is a group of diehard climbers and trekkers who expend their energy on more than just scaling cliffs or conquering peaks. They also restore the sites they visit.
Created in 1999 in Mumbai, the group initially aspired only to explore the countryside through weekend expeditions.
But that quickly changed. They saw how decrepit and badly maintained some of the forts they visited were and how uninterested the government was. Restoring Chhatrapati Shivaji Maharaj's 350 or so forts in Maharashtra has been a pet project for the 15-member group.
"Some forts have been constructed on mountain tops that are difficult to scale and in many places the retreating British blew up the steps leading to the forts," explains a member. The group has returned about 175 of them to pristine condition.
Read report