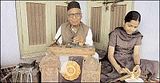 The preserve of the Sonis of Pratapgarh in Rajasthan, Thewa survives as a secret art almost 200 years after the maharaja of Pratapgarh initiated one of the ancestors of the Sonis into the business in the 19th century. As a rule, no labourer has been hired from outside the family.
The range of Thewa jewellery and accessories involve the skilful and painstaking use of gems, enamelled gold and foil, silver frames and bubble-free coloured glass.
Apart from personal use, Thewa makes for a fitting gift, a tradition set into motion by the erstwhile maharajas who would present visiting Britishers with trinket boxes or perfume bottles. One such item was presented to Queen Victoria by Maharaja Dulput Singh.
Read report