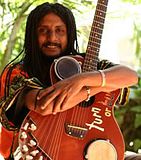 Benny Prasad, from Bangalore, a Solo Guitar Instrumentalist, has traveled to 194 Sovereign Countries, 50 Dependent Countries and Antarctica thus travelling to 245 countries, 7 Continents in 6 years, 6 months and 22 days from May 1, 2004 to Nov. 22, 2010 - setting the new world record for the Fastest Time to visit 245 countries.
Even though in many Third World countries it's almost impossible to travel without paying bribes, he has been able to travel to every nation in the world including every African Country without ever paying a bribe, even once.
Benny has lived a simple life and spent less than 140,000 USD in order to complete his travels to 245 Countries (even though he has repeated many countries).
Read full report