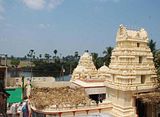 Almost every corner of the Kuchipudi village, reverberates with swaras and the jingle of ankle bells, one discovers.
This village is perhaps the only place in India, which has given its name to a classical dance-form.The history of this village and its inhabitants is interwoven with the evolution of the exquisite dance form of Kuchipudi.
This Andhra Pradesh village was originally known variously as 'Kuchelapuram,' 'Kuchelapuri' (one legend holds that Krishna's devotee Kuchela was from this place ), 'Kuchennapoodi' (after Kuchenna, a famous disciple of Siddhendra Yogi) and 'Kuchipundi.' It was populated by Bhagavathulu and their families.
The propagation of bhakti through artists called Bhagavathulu, who sang the stories of God (Bhagavatam) and danced too, was common in south India through the centuries. In this region, the dance was known as Kuchipudi Bharatham.
The earliest-known maestro from this village was saint Siddhendra Yogi (who lived some time between 11th and 13th century). Based on Bharata's Natya Shastra, Nandikeshwar's Bharatarnava and Abhinaya Darpanam, Siddhendra systematised and streamlined Kuchipudi.
Read full report