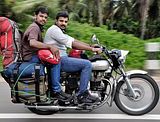 Deepan was a popular radio jockey with Hello FM and Muthukumar was climbing ladders in the IT industry, in the Big Apple. But, they paused, rewound to the promise they had made themselves, and set out to fulfil it.
Deepan and Muthukumar have decided to cover 28 States, spend at least a fortnight in each, visit organic farmers, and document their way of life.
They will cover nearly 40,000 km, across hills and vales, jungles and streams, with 100-kg backpacks in tow. They have equipped themselves with a Dell laptop, a Canon 7D, Sony high-definition handycam, a tent, and their companion through the trip — a souped-up 2006 Royal Enfield.
After the trip, the friends want to bring out a reference manual to link all organic farmers, as also a documentary of their life-changing journey.
Read full report