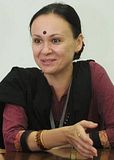 Ganna Smirnova had her first glimpse of Indian classical dance during a "Year of India" festival organised in the Soviet Union in 1987. By that time she had 12 years of training in classical ballet as well as in Russian and Ukrainian folk dance behind her. She was also practicing yoga, and familiar with the Upanishads and the history of India.
In 1998 she came to India on a scholarship from the Indian Council for Cultural Relations (ICCR). For the next five years she learned Indian classical dance intensively under Guru Jayalakshmi Eshwar at the Triveni Kala Sangam in New Delhi. She also took up learning the Mayurbhanj Chhau dance and Carnatic vocal music.
Her mastery of Bharatnatyam was so amazing that by the end of her stay in India, the ICCR added her name to a panel of best performing artistes, a rare distinction for a foreigner. Eager to share her passion for Indian classical dance with fellow Ukrainians after her return to Ukraine in 2003, Ganna set up the Nakshatra dance theatre at the Taras Shevchenko State University in Kiev, Ukraine's premier educational institution. More than 200 students have since attended her dance classes; five of them later went to India to improve their techniques and two have started teaching in Ukraine.
Read full report