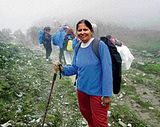 Vasumati Srinivasan is a mountaineer and scaling new heights is a way of life.
Vasumati has many firsts to her credit, right from being a part of the Bachendri Pal-led first women's team to set foot on the Siachen Glacier, to leading the first-ever women's 2,000-km-long camel safari from Gujarat to Punjab.
Soon followed an expedition to Peak Ibex, standing 20,450 feet tall. "This was a memorable expedition as, for the first time ever, a pregnant woman was also a part of the successful team that trained for almost 45 days for the 15-day expedition," Vasumati Srinivasan recalls.
However, she recalls her 1996 expedition to Kullu-Kunori as leader of the Army Ladies' Expedition fondly. "At 21,500 feet, the Kullu-Kunori route was technically very challenging and my 18-year-old daughter Smita and I set a unique record by being the first ever mother-daughter duo to have done it together"
Read full report