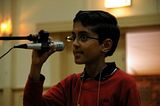 Eleven-year-old Indian-origin Anand Bharadwaj has been crowned as the World Youth Scrabble Champion, after he successfully managed to recover from a triple-triple.
Anand explained that if an opponent covers two triple word squares, their score multiplies by nine and adds 50 points.http://www.blogger.com/img/blank.gif
Bharadwaj was younger than all but three of the 83 competitors he beat in Malaysia and has now set his eyes on the World Scrabble Championship in 2013.
The family shifted to Melbourne from Chennai when Anand was 13 months old. By 15 months he was reading on his mother's knee, able to page reference any quote from dozens of books. At four he kept fellow preps entertained by naming train stations in Melbourne sequentially.
Read full report