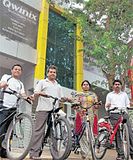 An Mysore based IT firm, Qwinix is paying Rs 1,000 a month each to its employees for cycling to work. The norm for earning the incentive is to cycle to work on at least 75 per cent of workdays in a month.
Darshan Puttanaiah, CEO of the firm who launched Qwinix in the US city of Denver in 2007, opened a branch in the city in April 2012. The offer letter sent to new recruits spells out that Rs 1,000 incentive awaits employees who adopt the green mode of travel.
The company has nine employees and already three of them cycle to work.
Read full report