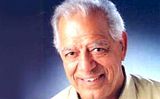 Dara Singh, the Wrestler-turned-actor who wowed audiences with his brawn and on screen histrionics for over five decades, died in Mumbai.
Dara Singh, an 83-year old was a childhood hero to many for his wrestling prowess. He played Hanuman in epic teleserial Ramayanan and also dabbled in politics.
Standing tall with rippling muscles, Dara Singh made a name in the field of professional wrestling and had over 500 professional fights to his credit, all undefeated. He won the title of Rustam-E-Punjab and Rustam-e-Hind for his wrestling prowess.
Also, he became the Commonwealth Champion in 1959 and in 1996 he was inducted into the Wrestling Observer Newsletter Hall of Fame. He announced his retirement from wrestling in 1983.
A wrestling hero to some and a much loved cine artist to others, Singh muscled his way into the film world with ease will always be remembered for his variety of roles in cinema including his brawny avatar in King Kong and Tarzan.
The commonwealth wrestling champion later entered the film industry in 1952 with Sangdil and became the only muscle man of the industry with his films like Faulad (1963), Darasingh: Ironman (1964), Daku Mangal Singh (1966) and Warrant (1975).
Read full report