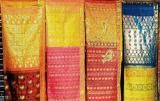 Venkatagiri sarees are woven in the small town of Venkatagiri in Nellore district of Andhra Pradesh. Though these sarees owe their name to the place of their origin, Venkatagiri has become popular mainly because of its weaves.
The simple, yet elegant look of Venkatagiri handlooms is intensely appealing. These sarees are also lightweight and pleasing on the eye, in designs ranging from dots and leaves to parrots and simple geometric patterns. The yarn being used is of a fine, polished variety, resulting in fabric that's not only smooth, but soft too, making them suitable for all seasons.
When it comes to design, these sarees are very different from the rest, in that they use the 'Jindani' design imported from Bangladesh, making them unique. The looms used in Venkatagiri to weave these exotic sarees are known as pit looms, which require the weavers to sit on the floor and weave with the help of their hands and legs.
Read full report